Modern fence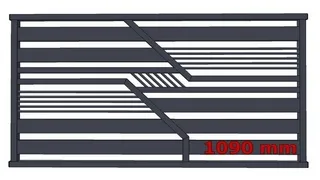 When choosing a fence we sometimes have a dilemma, yes, choose a more openwork or more covering fence model? Definitely modern or light design, that's the question which one to choose? Fences not only set the boundaries of the property, which is obvious, once you need to cover yourself from the public and a busy road, and once you do not want to separate from the rest of the world, let them look at what a beautiful garden we have. Gobe cyber style is the answer to the need for new design that follows inevitable trends in construction and more.
It seems that we have something for everyone, smaller, more massive and subtle, inspiring and straightforward, visually right and nonpartisan, a note of unpretentiousness and a bit of madness.
Modest safe and peculiarly unique, low or highly advanced compromise, so we can endlessly participate in the absolute infinity of design possibilities and models from Gobe.pl Gate Fence , but everyone will find something personal. When choosing fence gates or railings, you need to start the journey through the technical aspects of your local situation. Type of gate, height of the fence, what are the imposed building criteria, of which, where is the gate and dumpster?
Shortcuts - without cotton, everything about metal fences - inspirations 374 - you'll learn some interesting topics

Let this journey be an adventure, you are not alone, we do it every day, a team of support specialists will help build your concept of a project assumption, who plans and designs does not err, why include mishaps. Tips not to shoot yourself in the knee in the dark, because you have to make some important choices, trust the professionals.
HAVE QUESTIONS? We will gladly dispel your doubts. Contact us, write, ask, call, act and click. We will solve your problems, adapt to the situation, do not bear it yourself, it will be easier if you share with us. If you already know what you need, you have everything laid out this is honey boat, we will optimize the offer to your needs and to work.